Get in touch, and get the support you need when you need it.
Whether you live near a local branch or live anywhere across the great state of Texas, we're here to serve you.
Monday – Friday, 7 a.m. – 11 p.m. CST
Saturdays & Sundays, 9 a.m. – 5 p.m. CST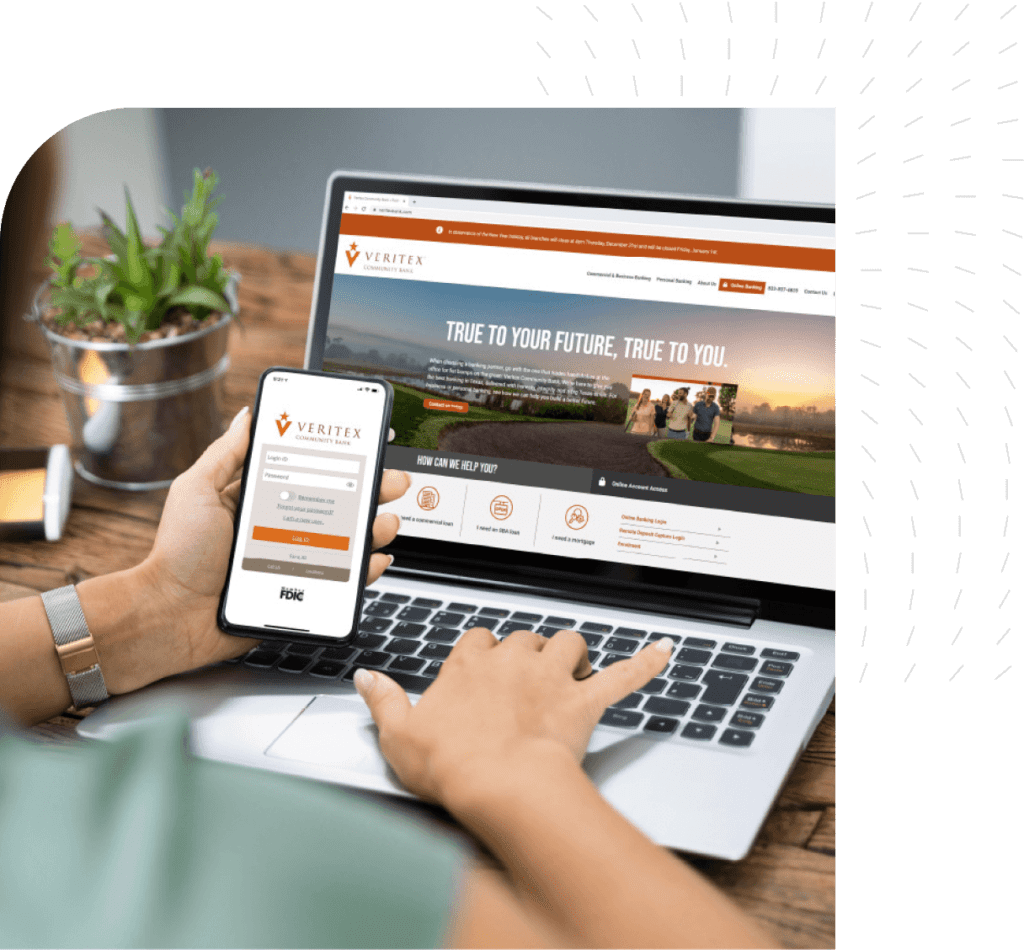 Come See us in

DFW

or

Houston
Our convenient locations across Dallas, Fort Worth
and Greater Houston are here to serve you.
"As you open an account online, our team is available to help if you encounter any hurdles along the way. Just the other day, a potential customer began their journey online and reached out for assistance.  Determined to make their experience seamless, I had the pleasure of meeting with the individual and providing them with the necessary guidance. Together, we successfully booked their account. Their appreciation for my assistance was overwhelming, I assured this new client that providing support is what I am here for, reaffirming my commitment to their financial success, and expressed my sincere appreciation for the trust they have placed in us by becoming part of our valued clientele. We're here to do the same for you."
Melissa Barrientos,

Community Bank Center Manager
Veritex Community Bank was founded in 2010 and is headquartered in Dallas, Texas. Veritex supports customers statewide and is one of the 10 largest banks headquartered in Texas. Recipient of Texas Bankers Association 2022 Cornerstone and Life Award, recognized by IBAT in 2022 for our community service and in 2023 for our Women in Business program and for our innovation in banking service. 
Where are you located? We have convenient locations in the Dallas/Fort Worth metroplex and greater Houston area. However, we provide the same quality service to our customers statewide through our online banking tools allowing you to bank from anywhere.
Do you have a branch near me? Our banking centers are in Dallas/Fort Worth metroplex and the greater Houston area, but we service all our clients as if we were right around the corner through online banking and our customer support team. When you open an account, you will be assigned to a banker who is available to you via a phone call or virtual call.
Take comfort in knowing we are a member of the Federal Deposit Insurance Corporation (FDIC). Our team can help you structure your accounts for maximum coverage. Deposits are FDIC insured up to $250,000 per depositor.
https://veritexbank.com/about-us/leadership/fdic-insurance/
Single Accounts - Up to $250,000 coverage per owner.
Joint Accounts - Up to $250,000 per co-owner.
Corporation, Partnership accounts - Up to $250,000 per corporation.
More options available, let's talk!
Veritex Community bank is a member of the FDIC and deposits are federally protected (or insured) against bank failure or theft up to $250,000 per depositor.
Applications are processed through a secure portal that encrypts new account data and safely transfers funds to open the account. The application does not store or share any data. 
CDs: The rate on a CD is locked in for the term regardless of rate fluctuations. When it is time for your CD to renew, you will have the opportunity to determine if the current rate, term, or product still meets your investment strategy. 
SAVINGS: Rates on savings accounts will always move as market rates adjust up and down. Rates are variable and can change at any time. Just know that Veritex will always be fair, transparent, and competitive with our rate strategy. 
Interest from your Certificate of Deposit will be paid quarterly either back to the CD, deposited to a Veritex account or transferred to another financial institution.  
Customer service is available from our customer service team (833-VERITEX) or by sending a secure message via online banking.
Enrolling in online banking allows you to view account balances and transaction history, transfer money, download transactions to a personal financial manager, and more. You can access your checking, savings, and loan accounts from Online Banking. Online Banking is intended to give you as much access, security, and versatility as possible.
Fill out the short form below and we'll be in touch within one business day.